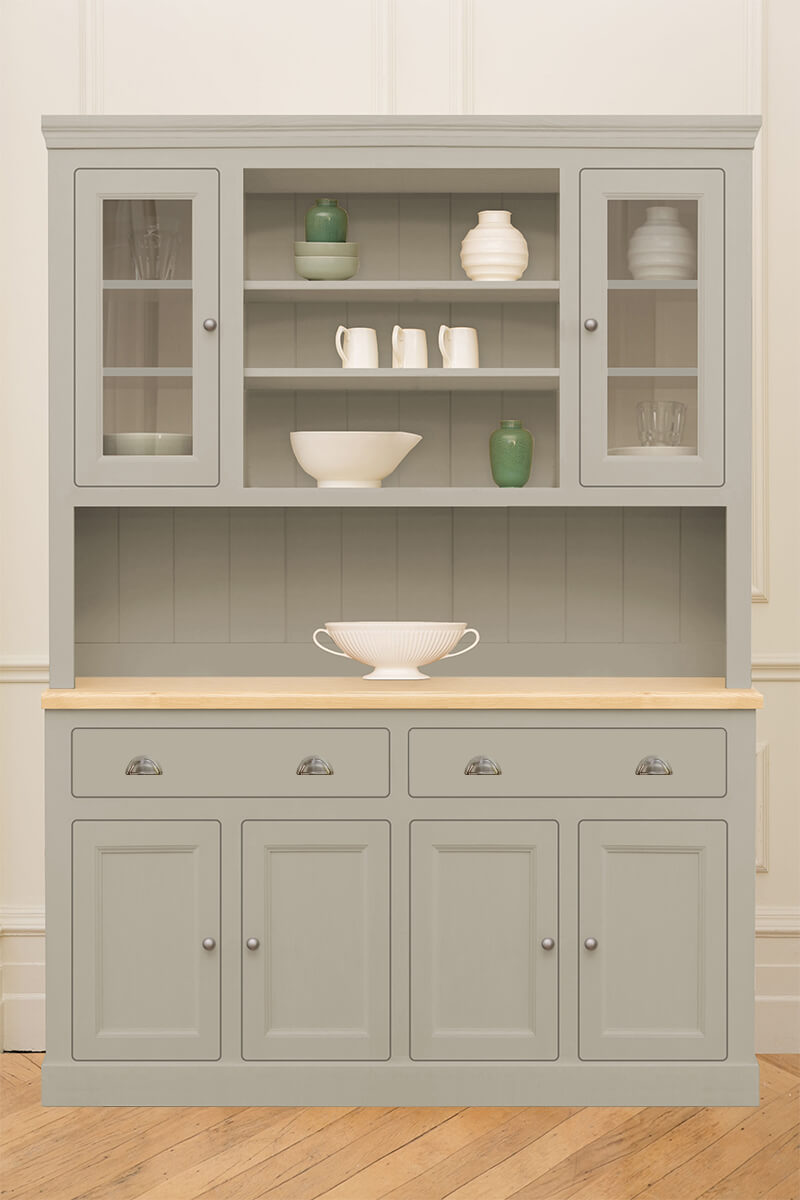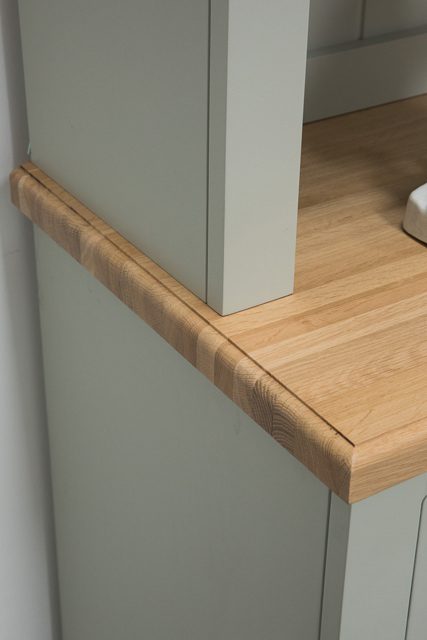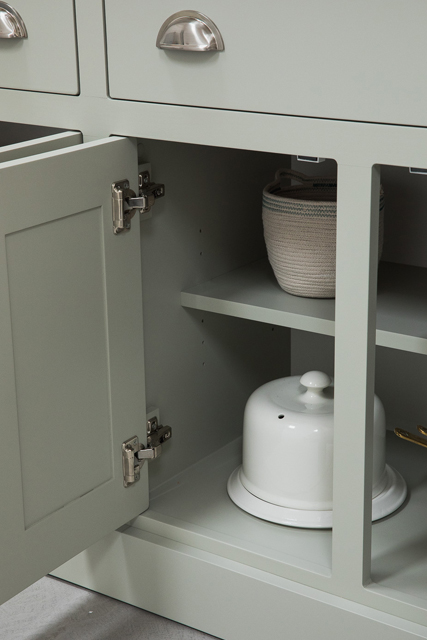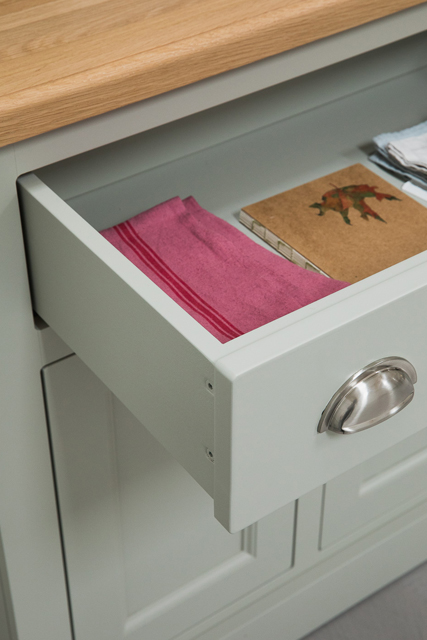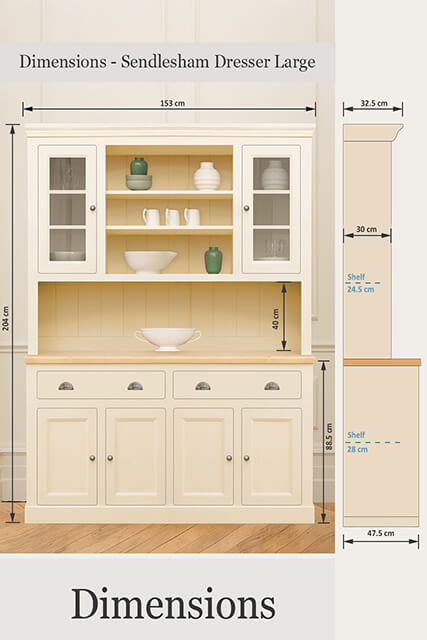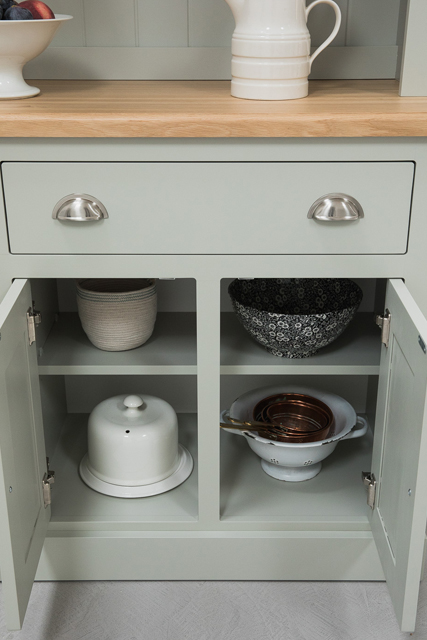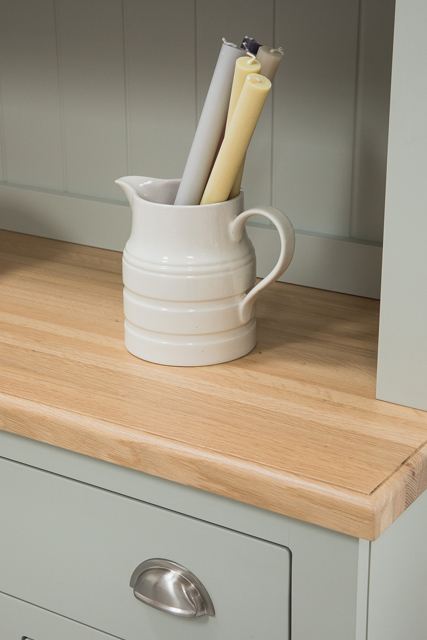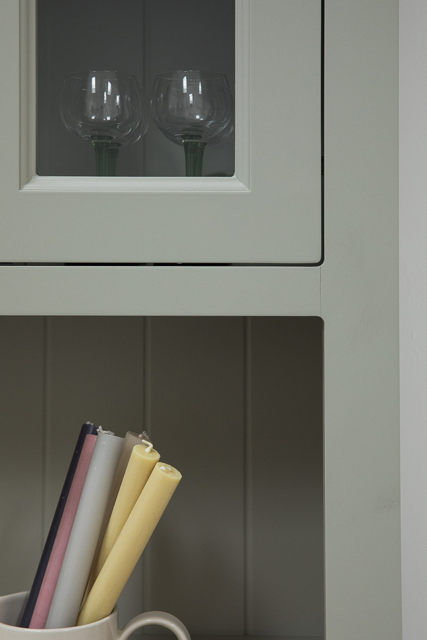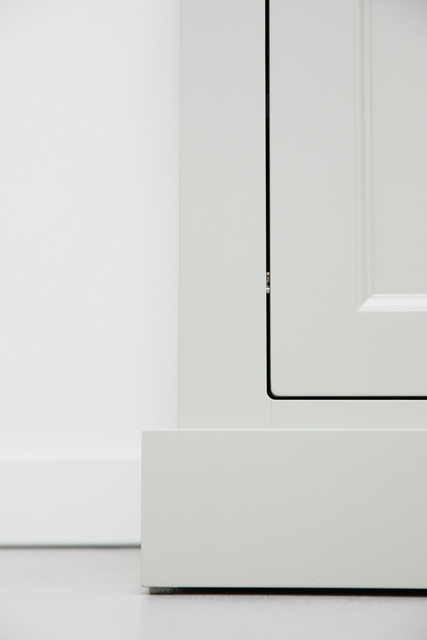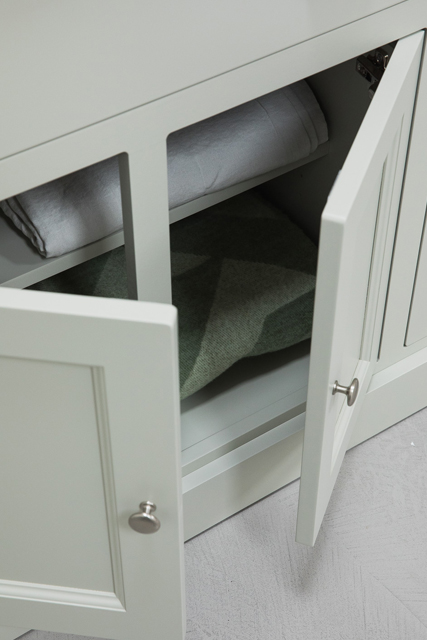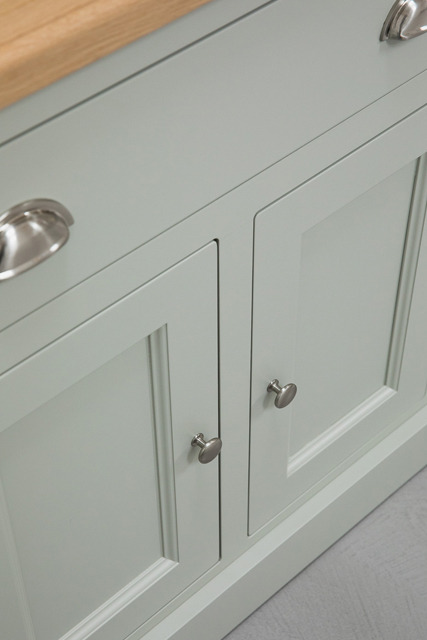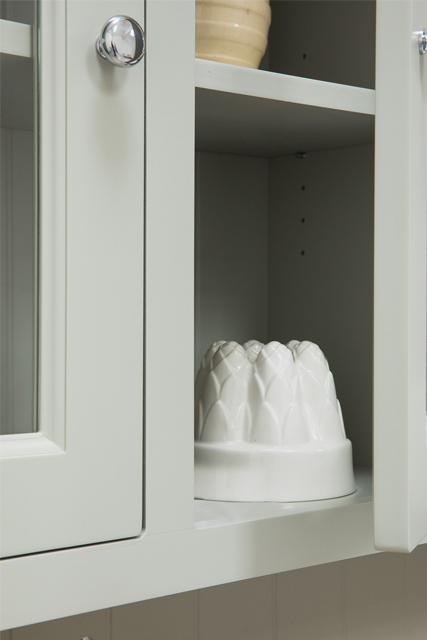 Add to basket
The Sendlesham Large Dresser is a large kitchen dresser for those needing really ample storage. Practical and elegant, the symmetrical design is pleasing to the eye and stylish too. The open shelves are perfect for display items or books while more delicate items can be kept behind the soft closing glass doors. With deep dimensions, this substantial dresser provides an excellent mix of display and storage space. This is a modern twist on the much loved traditional Welsh dresser with a beautifully sculpted solid Oak worktop and fine features.
Made from FSC accredited solid hardwood. Worktop made from solid Oak with a sculpted edge. Painted in a choice of eggshell colours.
Solid Oak worktop sealed with a clear lacquer finish.
Soft-closing drawers and doors.
Adjustable shelving in top & bottom parts.
Ample storage.
Smooth eggshell paint finish.
Fitted with solid brushed Nickel handles.
Dimensions
Total height:
215
cm
Total width:
153
cm
Sideboard depth:
47.5
cm
Top cupboard depth:
34
cm
Read our FAQ for information about us and our dressers:
Read our FAQ
Have a question about this product? Then get in touch:
Contact Us
Read testimonials from our customers all over the country:
Testimonials
---
Customer Testimonials
"We've just taken delivery of our new Studio dresser-absolutely delighted! It's a real piece of furniture-stylish, bright, functional, and finished to a very high standard. Plus the delivery company contacted us by phone and email in advance on the dates as promised. Based on our experience my wife and I have no hesitation in recommending the Kitchen Dresser Company Ltd!"
Webb, Brighton
"Just wanted to say thank you for my Studio dresser that was delivered last week. I am so happy with it. It looks absolutely stunning in my conservatory and complements my kitchen units next to it. I am really pleased with it."
Neville, Birmingham
"My large Sendlesham dresser ordered online arrive today and any nerves about ordering such a substantial item without first visiting the showroom soon evaporated. The quality of the workmanship and superb finish exceeds already high expectations. It is the dresser I dreamed of and adds an extra dimension to our newly fitted kitchen. Thank you Simon & the team"
Brown, Nottingham
"I just wanted to let you know the dresser has arrived and it looks FAB! We will definitely recommend you to friends who are looking for a dresser."
Jackson, London
"Dear kitchen dresser people, we took delivery of our dresser and sideboard on Friday and are delighted with both. The quality is fantastic and having spoken to you and received the paint sample cards, the colour is just right."
Worden, Edinburgh
"Dear Laura, the dresser was delivered on Friday and I have seen it today - its the perfect finishing touch to my Mum's kitchen - thank you!!"
Thomas, Cheshire
"We ordered the Bathwick dresser in Saltmarsh via the ex-photoshoot pages last month. It has just arrived and as you promised, it looks great! Thank you"
Jacobs, Lancashire
"Sorry for the delay but just wanted to say that we are really happy with the dresser - thank you"
Bentham, Cheshire
"Dear Simon, just to confirm that my dresser arrived, was unpacked and I have now filled it with my 'stuff'. It is just what I wanted and I am very happy with it. Always slightly worried buying things online without seeing it 'in the flesh' but (as I e-mailed my children) happiness is a lovely new kitchen dresser, many thanks."
Diane, Dorset
"Hi Simon, I just wanted to drop you a quick message to say my dresser has been delivered and I'm absolutely thrilled with it. Excellent craftmanship, beautiful colour and it fits perfectly in my kitchen. The delivery team was also excellent. Thank you so much."
Randall, Berkshire
"Hello Susan, thank you for the dresser delivery, that was speedy service. We love the dresser and think that it looks great in our kitchen. Many thanks"
Glanville, Surrey
"Hi Guys, I just wanted to say WOW and thank you for such a beautiful piece of furniture. It really does look stunning and finishes our kitchen off fantastically well. My wife wasn't too sure when I ordered it but now she can't stop raving about it. Keep up the good work and thanks again."
Cullen, London
"Hi Simon, thank you for the dresser delivery which is now sitting proudly in my kitchen - it is perfect for my needs and I am very impressed with the quality & workmanship. Delivery guy was excellent as well at unpacking & assembling, many thanks."
Christine, Aberdeen
"Hello Simon, I just wanted to say that the delivery came on Saturday and we are delighted with this. Thank you very much for such a good service."
Adams, Derbyshire
"Hi Simon Just got the dresser and it looks great thank you!"
Ohlson, Surrey
"My beautiful dresser arrived this afternoon. I am absolutely blown away by it, it's just fabulous. Beautiful quality and workmanship. I am over the moon with it. I just need to fill it with pretty things now! Thank you ever so much"
Kate, Pembrokeshire
"Dear Simon and Susan, just to let you know that we received the kitchen dresser last Saturday and are extremely pleased with it. We found the couriers to be very professional and friendly. Many thanks again"
Mistry, London
"Good morning, just to let you know the dresser arrived safely, and when stated, yesterday. The couriers were very polite and efficient. The dresser is just perfect for the space, beautifully 'understated' and beautifully made. Thank you"
Stewart, Perthshire
"Dear Simon, I received the dresser last Sunday and it is absolutely beautiful and fantastic finish and craftsmanship. Thank you very much for your flexibility on the payment method."
Nicoletta, London
"I just wanted to confirm I have taken delivery of the dresser this evening. We are very pleased with the quality and it looks beautiful in our kitchen. Many thanks again."
Pilkington, Chester
"I am really pleased with the quality of the dresser and the delivery men were a pleasure to deal with. Thank you so much for your help."
Dorothy, Glos
"We love the dresser Simon...Thank you! I'd filled it within the hour and taken photos to send my friends and family! The chaps who delivered it were lovely too. Kindest regards"
Miss Butler, London
"Evening Simon, we received the new dresser last week which is lovely and we are very pleased with it, thank you for a lovely crafted piece of furniture."
Mrs Hind, Sussex
"Hi Simon, Received our dresser yesterday and we are really delighted with it.It is my most favourite piece of furniture in our house! Thanks for all your hard work."
Watson, Edinburgh
"Dear Simon, just wanted to say how pleased we are with our dresser, it's just so lovely and looks fantastic in our dining room. The delivery men were wonderful, very friendly and efficient. Once again thank you so much. I'm sure we will enjoy it for many years and will recommend you to our friends."
Mrs Wills, Surrey
"I was quite nervous buying such a big item from the Internet unseen. I thought it might appear a bit flimsy or the colour would be wrong. Well I should not have been so worried! I absolutely Love it! It exceeds my expectation! The quality of the piece is excellent and the cupboards and drawers are very spacious."
Dowlen, Yorkshire
"Hi Simon, The dresser has just been delivered bang on time by two very professional guys. I just wanted to say I'm delighted with it (and know my wife will be when she returns later). Its a fantastic piece of furniture which has finished our new kitchen off perfectly. Many thanks - the service and product has been excellent."
Mr Oborn, London
"Hi Simon, Many thanks for the kitchen dresser which looks lovely and just right in the dining room. The couriers were brilliant, earlier than they originally thought and very speedy to put it in situ. Thanks again, have a good Christmas."
Christine, Bath
"Just to let you know that the dresser arrived safely yesterday morning. The couriers were excellent and we are absolutely delighted with the dresser and very impressed with the quality of the workmanship. Thank you very much indeed. We will definitely be recommending you to our friends. Kind regards,"
O'Reilly, Derbyshire
"Hello Simon, I have received my dresser and am absolutely delighted with it! Thank you."
Libby, Northampton
"Hello Simon, Just to let you know my kitchen dresser arrived yesterday. It is a beautiful piece of furniture and so well made. It looks perfect in the kitchen - thank you to you and your team. Mandy"
Mandy, Fife
"Dear Simon, I am delighted to have bought the dresser. I'm buying from France and if Susan hadn't been so helpful and understanding, I might have simply given up. Buying from you has been a thoroughly pleasant experience. I look forward to enjoying the dresser for many years."
Archibald, France
"Hi Simon, we took delivery of our dresser yesterday and it's even lovelier than we expected. The quality and finish are excellent and the man who delivered it was great, he assembled it and took all the packaging away. It finishes off our kitchen beautifully and we are very pleased with it. Thank you very much."
Treadell, Wales
"The dresser arrived bright and early, as planned, on Saturday morning. Lovely friendly delivery guys who put it together, quickly, cheerfully and kindly took away all packaging. We LOVE the dresser and would highly recommend your company to anyone looking for a fabulous focal point to any home."
Wilson, Cambridge
"I received my dresser today and am absolutely thrilled with it. I would also like to add that the delivery team were superb, very friendly and most helpful. It has been a pleasure doing business with you. A very happy customer."
Wendy, Essex
"I have taken delivery of the dresser and wanted you to know that I am very pleased indeed with the product. Please pass my thanks to Simon who obviously does a superb job. Many thanks."
Mrs Parker, Hampshire
Colour Samples
---
Please select the colour samples that you would like to order and we will get these sent out to you using 1st Class post.
Our 'white glove' delivery service is free.
The delivery team will bring the dresser into your home in two pieces for easy access.
They will place it in your chosen location, unwrap both items, lift the top of the dresser onto the bottom sideboard and secure together using rear fixing brackets.
All packaging will be taken away for recycling.